Modern technology has improved orthodontics, making treatment faster and more comfortable for patients. Shoe Orthodontics is always looking out for technology that helps our patients, and we found it with LightForce braces! Why LightForce braces? They're customizable to each patient, treat patients in less time than traditional braces, and are more comfortable than older braces.
The LightForce system uses 3D printing to create customized braces just for you! You'll have less discomfort and fewer office visits but the same amazing results as traditional braces. You'll be surprised by the benefits of LightForce braces!
Braces Built Just for You
We start with detailed scans of your teeth. When we say detailed, we mean down to every angle and groove. Then we use those details to create custom brackets using 3D printing technology. These brackets are made to perfectly fit your teeth precisely.
Those scans are used to create a customized treatment plan. We determine where and how each tooth moves. We also determine when that tooth should move. The LightForce system combines everything to create a treatment plan designed to get you out of braces as soon as possible and into the smile you've always wanted!
Faster Treatment With LightForce Braces
Traditional metal braces use one-size-fits-all brackets. They do a good job, but because every person's teeth are different, they may not work as quickly on some as on others. They may not be pressing on the best place on the tooth to get the most movement possible.
That's not the case with LightForce braces! Because they're custom created, they are made to fit your tooth's precise shape and angle. The brackets are placed using specialized trays that put them exactly where they need to be to put the maximum force on the tooth. This means each tooth gets the most movement possible but in a more comfortable way.
Faster treatment also means you'll need fewer office visits than traditional braces. That means you'll have more time for yourself and less time in the examination chair!
More Comfortable Treatment With LightForce Braces
Traditional brackets push on less efficient areas, so they have to work harder to move the tooth, which can make it more uncomfortable for you. LightForce braces are placed in the right spots to move your teeth with minimum discomfort.
Think of it like lifting weights. If you lift them awkwardly, it takes longer to build your muscles, and you may hurt yourself in the process. But if you lift weights correctly, you get the maximum buildup of your muscles without the added pain. LightForce braces work in much the same way.
Before and After LightForce Braces
Before-and-after photos of braces treatments can be a helpful tool in evaluating the effectiveness of orthodontics. Lightforce braces can work wonders in fixing dental problems like crooked teeth, bite issues, and crowded teeth, providing remarkable results! Not only can these treatments change your smile, but they can also improve your overall face shape.
These examples demonstrate how LightForce braces can transform your smile. If you want to see how they can help your smile, schedule a free consultation with Shoe Orthodontics in Hanover, PA, or Reisterstown, MD.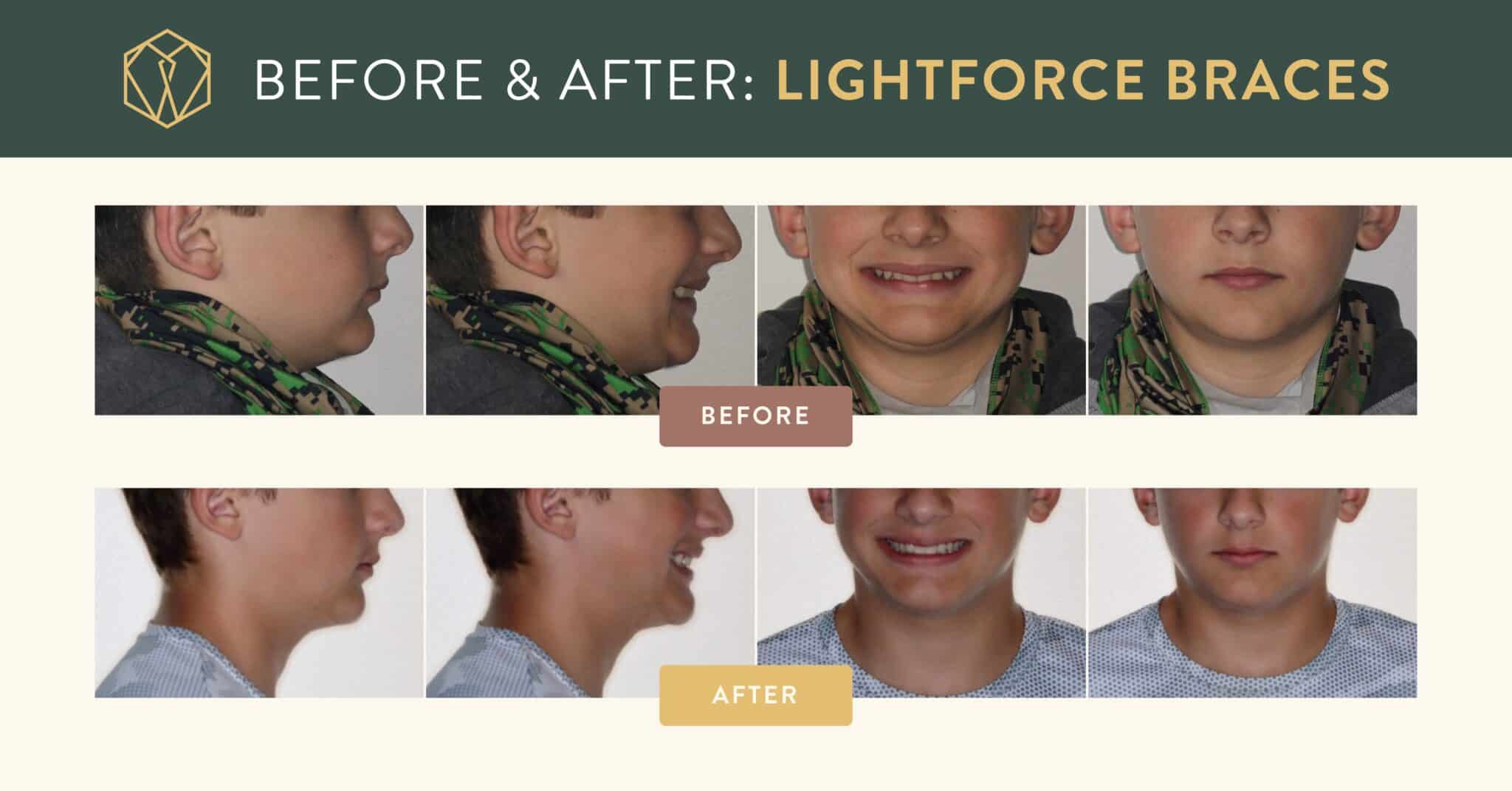 Affording LightForce Braces
At Shoe Orthodontics, we understand that the cost of braces can be a concern. Our goal is to make orthodontic treatment accessible and affordable for everyone.

That's why we offer:
Low down payments
Monthly payments
Family discounts
5% discount if you pay upfront
Accept payment with FSA/HSA cards
Accept major insurance carriers
LightForce Braces in Hanover, PA
LightForce braces are the next generation, improving comfort and treatment time compared to traditional metal braces your parents may have worn. They take less time to place on your teeth, so you'll spend less time in our chair when it comes time to get your new braces! When you come for your free consultation, we'll give you a full examination and let you know whether LightForce braces work best. We serve patients in Hanover, PA, Reisterstown, MD, and the surrounding areas.
LightForce braces provide amazing results in less time and with more comfort than traditional braces. We also off Invisalign and 3M Clarity clear aligners for patients who want something less obvious than braces. Contact us at Shoe Orthodontics and see which one is right for you!