Congratulations on getting your braces! You're now on the path to achieving the straight, beautiful smile you've dreamed of. By now, you've heard all our instructions to keep your braces safe and your treatment on track. It's a lot to remember, isn't it? Luckily, you don't have to worry if you don't remember every word. We have the basics on wearing braces right here!
Shoe Orthodontics wants your braces treatment to be a huge success. We want you to walk out with the smile you've always wanted. But it will take some work and discipline to make your braces work 100% the way you want! So how do you take care of braces? Here are a few tips to keep in mind!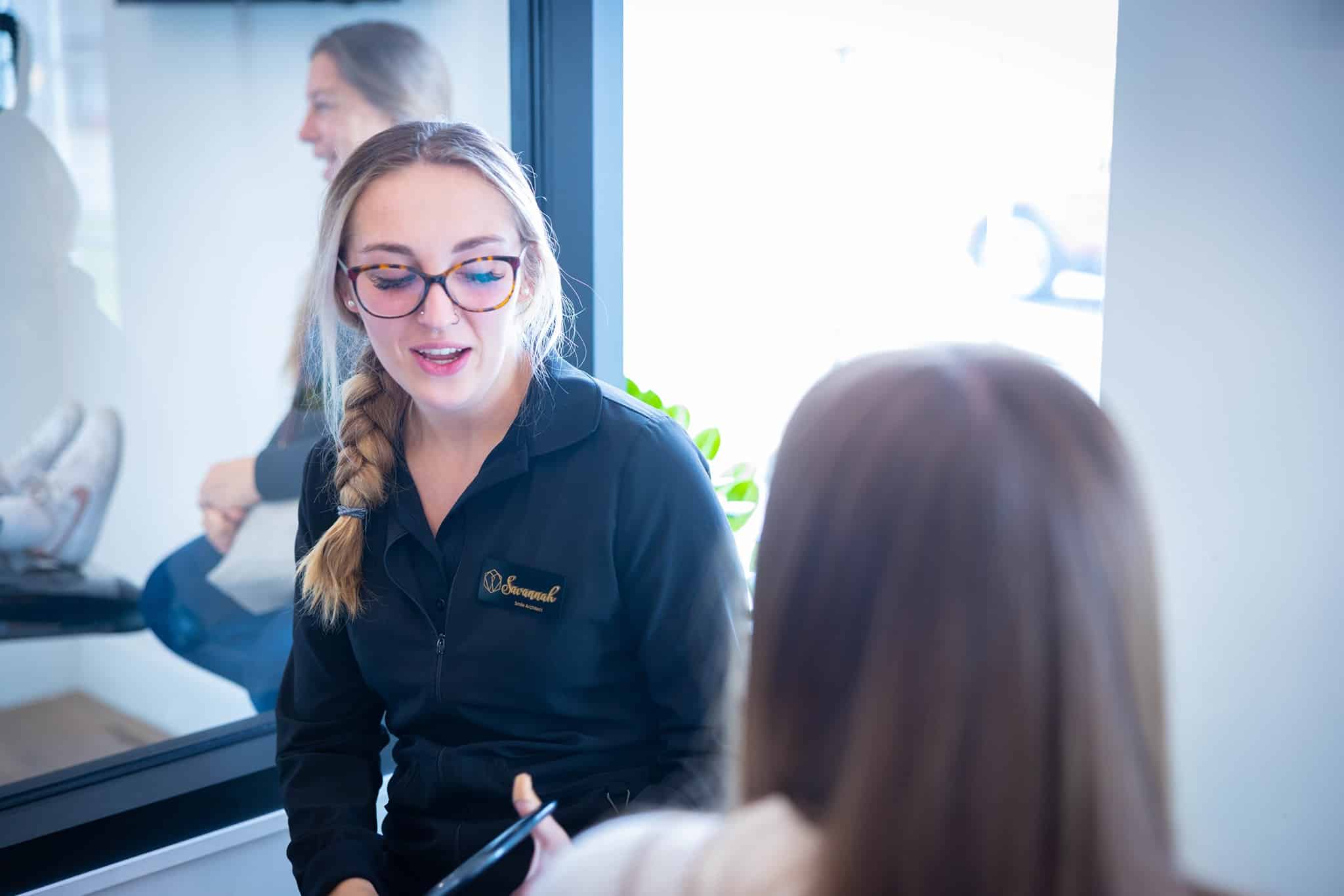 Caring for Braces: Brushing and Flossing
Brushing and flossing are important whether you wear braces or not, but it's especially important while wearing braces. Food particles and plaque can build up around the brackets, accelerating tooth decay. You need to brush after every meal if at all possible. If not, you should brush at least twice a day and try to rinse your mouth after lunch or snacks.
Brushing and flossing may seem more challenging with braces, but you'll get the hang of it quickly with the right tools. Try using a soft-bristled toothbrush, and use an electric toothbrush. They often have spinning or vibrating heads that can dislodge food particles far better than a manual toothbrush. Be sure you replace the toothbrush heads when the bristles fray, which they will do quickly with braces. Frayed heads don't clean nearly as well.
When it comes to flossing, floss threaders make it much easier to floss properly. These devices look like big, flat, plastic needles with giant eyes. You thread the floss through the eye, then under your archwire and through your teeth, pulling the floss through. Then you floss as normal. Make sure you floss first, so when you brush, it will remove the food particles and plaque you've removed from between your teeth.
Caring for Braces: Food Dos and Don'ts With Braces
It is common for people with braces to wonder what foods they should avoid to prevent damage to their brackets or wires. Consuming the wrong foods can cause them to come off or loosen, which can delay your treatment while your orthodontist makes repairs. To help you avoid such issues, here is a list of foods you should and should not eat:
Types of Foods to eat:
Soft cheese, pudding, and milk-based drinks like milkshakes
Soft bread like tortillas, pancakes, and muffins without nuts
Cooked pasta and soft-cooked rice
Easy to chew meats: Soft-cooked chicken, meatballs, lunch meats, and hot dogs
Tuna, salmon, crab cakes, and lobster
Mashed potatoes, steamed spinach, beans, cooked squash/zucchini, and other cooked vegetables
Applesauce, bananas, fruit juices, and other soft fruits
Ice cream without nuts, smoothies, Jell-O, and soft cake
Types of Foods to Avoid:
Bagels, licorice, taffy, "hand-tossed" pizza crust, gummy bears or any other gummy candy, and jerky (all chewy foods)
Popcorn, tortilla chips, ice, and hard cookies (all crunchy foods)
Sticky foods like gum and caramel
Nuts, hard candies, sunflower and pumpkin seeds, and any other hard foods
Apples, carrots, corn on the cob, whole pears, and whole peaches (all foods that require biting with your front teeth)
Caring for Braces: Protecting Your Braces and Mouth
We have a few more tips for taking care of your braces. You want to protect them, especially when you play sports, so wear a mouthguard for your braces. Ask us if you're uncertain which kind of mouthguard you should use.
Don't chew on anything hard that could pop a bracket or break a wire. Pens, pencils, and even fingernails can cause damage to your braces. It shouldn't go into your mouth unless it's food, a toothbrush, or dental wax!
Speaking of dental wax, make sure you use it if your braces are irritating your mouth. That can happen in the early days of wearing your braces. Eventually, your mouth will "toughen up" and get used to your braces. Until then, dental wax can soothe rough areas. Just make sure you throw out the dental wax (also called braces wax) once you remove it. Never reuse dental wax! You're just putting germs and bacteria back into your mouth. Gross!
If something happens to your braces, such as a wire break or a bracket, pops off, call us right away. We'll schedule an appointment to get you in and make the repairs as soon as possible. There are ways to trim a poking wire if necessary, but don't try to glue a bracket back on by yourself! Regular household glue can be toxic. When repairing your braces, it's best to leave it to the professionals at Shoe Orthodontics!
Braces Treatment in Hanover, PA
If you don't have braces but are interested in getting them, contact Shoe Orthodontics in the Hanover, PA, or Reisterstown, MD, areas. We will start you with a free consultation to perform a full examination, give you a grand tour, and show you what we can do for you and your smile. You're under no obligation to have your treatment with us, but we certainly hope you decide to let us help you get on the path to an amazing new smile. If you decide to go with Shoe Orthodontics, you can rest assured we will be with you every step of the way!
races! When you come for your free consultation, we'll give you a full examination and let you know whether LightForce braces work best. We serve patients in Hanover, PA, Reisterstown, MD, and the surrounding areas.
LightForce braces provide amazing results in less time and with more comfort than traditional braces. We also off Invisalign and 3M Clarity clear aligners for patients who want something less obvious than braces. Contact us at Shoe Orthodontics and see which one is right for you!