Patients come to us wanting braces to transform their smiles. What they don't always realize is that braces can transform much more than your smile. They can transform the entire shape of your face! Protruding or crooked teeth affect how your jaws, cheeks, lips, and chin look.
Shoe Orthodontics understands that our work doesn't just transform smiles — it transforms lives. We love seeing our patients gain new self-confidence when they see the effect straight teeth have on their entire faces. How do braces transform your face? Let's look at what you might expect from your braces treatment.
Jawline Before and After Braces: Face Shape Transformation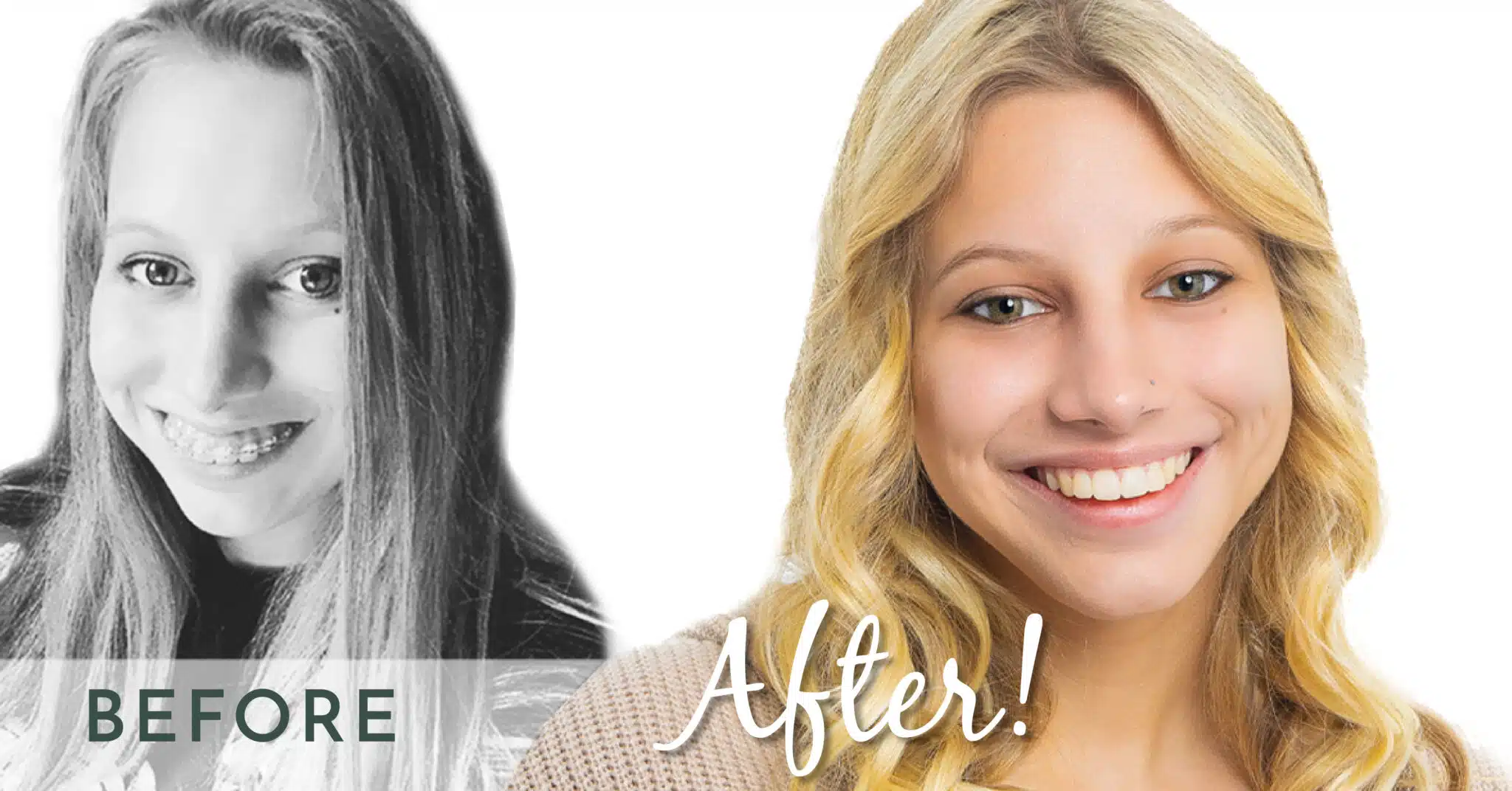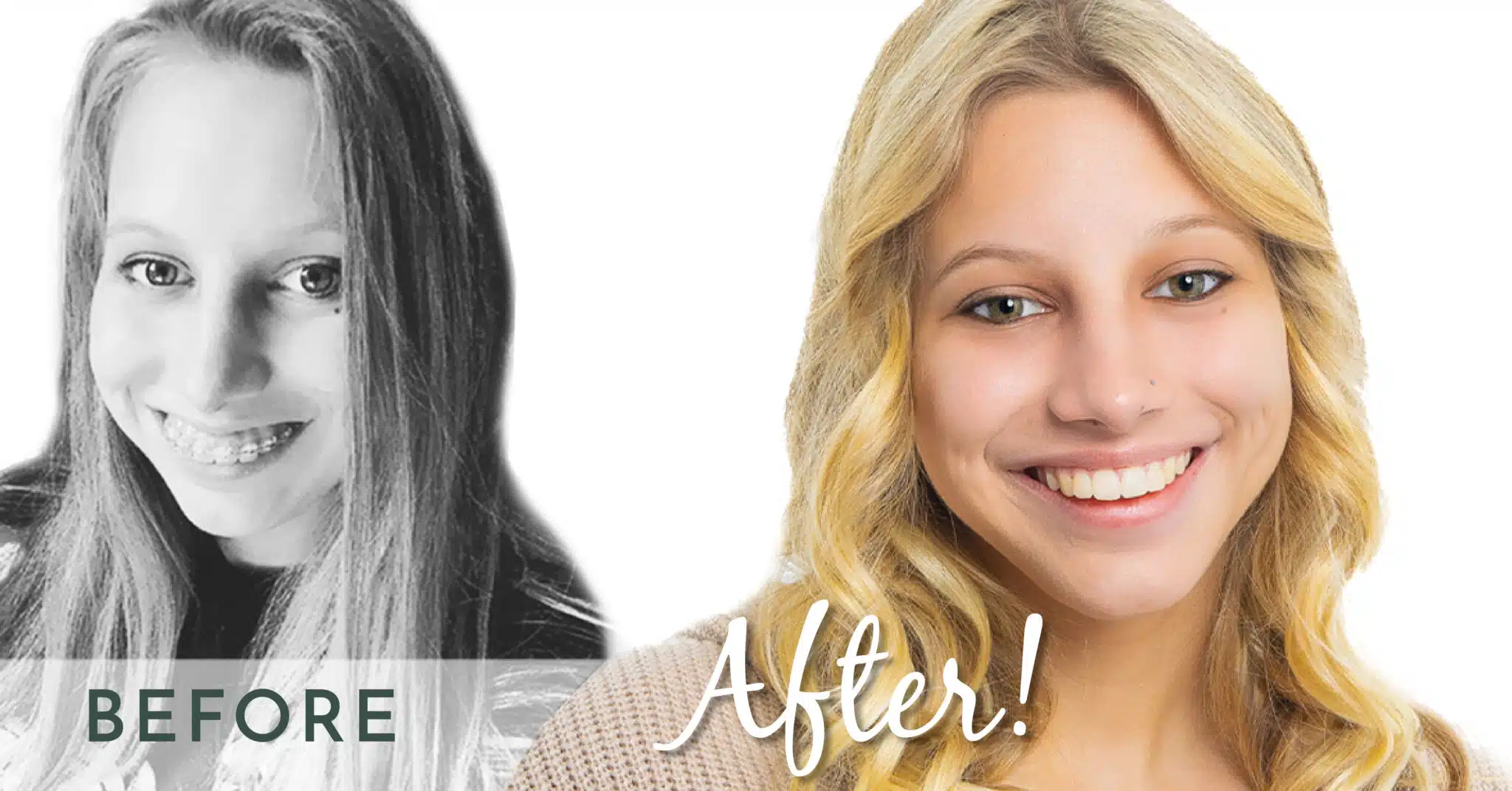 Braces can transform your teeth, but braces can also change your face shape. This applies whether you get treatment with metal braces, our clear braces, or lingual braces. As your upper teeth move back, your upper jaw blends better with your cheekbones. Your lower jaw also will be less tucked away than it was, making it more symmetrical with the rest of your face.
Our Lightforce Braces will transform your face and teeth faster than traditional braces, making them slightly more obvious to you. Still, even if you can't see it immediately, you'll notice it by the end when we show you the "before" photos. You'll be shocked at how your face has transformed!
Do Braces Change Your Facial Features?
Braces can correct various orthodontic issues, but the three types of malocclusion that can change the shape of the face are an overbite, an underbite, and an open bite. Braces can also fix crooked teeth, gap teeth, and crossbites. Braces treatments aren't limited to teenagers. Shoe Orthodontics has patients of all ages, from children to adults. While they all see a change in their smile, some see a change in their faces. Often, it's those with a severe overbite, underbite, or open bite cases.
What Is an Overbite?
An overbite is when your top teeth protrude too far over your bottom teeth. People with an overbite tend to have a predominant upper jaw and a lower jaw almost tucked underneath it. It gives the appearance of a "weak" lower jaw that appears smaller than the upper one.
Correcting an overbite brings the teeth back and makes the upper jaw look less dominant than the lower jaw. It gives the face a more symmetrical appearance.
What Is an Underbite?
An underbite is the opposite of an overbite. Instead of the upper teeth being in front of the lower teeth, the lower teeth protrude in front of the upper teeth. An underbite thrusts the lower jaw forward and makes the chin look bigger.
Correcting an underbite moves the chin back to its proper position so it's more in line with the rest of the face. This will soften your features and make your nose and cheekbones less prominent.
What Is an Open Bite?
Correcting an open bite may bring the most noticeable changes to your face. With an open bite, the front teeth sit in front of the lower teeth more than usual and lean outward. In some cases, they can even be seen between the lips. An open bite makes it difficult to bite and chew food. It gives the upper jaw a harsh look because the teeth are thrust forward. It also weakens the appearance of the lower jaw.
Repairing your open bite will put the teeth behind the lips where they belong and close the gap between the upper and lower teeth. It makes the upper jaw look less forward and lines the upper half of the face up better with the lower half. Your chin won't look like it's tucked behind your upper teeth. You'll see an amazing transformation!
Do Braces Change Your Lips and Make Them Look Bigger?
Your braces treatment can change several aspects of your face, including your lips. It won't make them bigger, but it can make them look fuller by lining up properly. When your upper lip protrudes because of the teeth behind it, it makes your lower lip look tucked underneath and thinner than it is. So while braces don't change the actual shape and fullness of your lips, they may look like their fuller simply because they're lined up properly.
So while braces won't make your lips plumper, they may make them look like they are. The more we fix, the more you're likely to notice a change in your lips and the rest of your face.
Will Age Matter With Braces Changing Your Face?
We often stress that you can get braces at any age and are never too old for the smile of your dreams. However, moving your teeth and reshaping your face at a younger age is easier. That doesn't mean you won't notice any changes as an adult. You might notice you look a bit younger once your braces treatment is done.
Your bones are still developing when you're younger and tend to be more malleable. That makes it easier to move your teeth. It also means the new shape of your face is more noticeable. As you age, your bones "set" and harden. While it makes it more difficult to move your teeth, it's not impossible. However, it does mean that changes to the rest of the face are more subtle because they're not moving like they would if they were softer.
How does all this make you look younger? Older patients will see their lower jaws move forward a bit more. This can soften the appearance of wrinkles and tighten the skin along the lower jaw. It's more subtle than a facelift, but it will look slightly different from what you did before.
Braces Treatment in Hanover, PA
Braces treatment will make a huge difference in your bite and the appearance of your teeth, but it can also affect your face. When you schedule your free evaluation with us, our software will show you what your teeth will look like when we're finished, and it will also give you an idea of what changes there will be in your facial structure.
Are you ready to see how braces can transform your smile and face? If you're concerned about the cost, Shoe Orthodontics has financing options to make the bravest treatment affordable, from affordable payments to flexible financing plans. Everyone deserves to have the smile of their dreams, and Shoe Orthodontics wants to provide that for you!